Chey Tayloe "Jones" is a character in the State-Tan Project

She is symbolized as the state of Wyoming
Wyoming



Human Name:

Chey Tayloe-Jones

Nicknames:

The Equality State, The Suffrage State, The Cowboy State, The Park State, Big Wyoming, WyHoming, WY Arse, Dat Ass

Age:

Wyoming's appearance age is 18-20.

Inhabited for over 11,000 years by Native Americans. Founded by Francois Louis Verendye in 1742. Because of Wyoming's location at the intersection of the Louisiana Purchase, the Oregon Country, and the Mexican Cession, the land which became Wyoming had a complicated history of Territorial relationships. Portions of Wyoming fell under the Oregon, Washington, Idaho, Dakota, Nebraska, and Utah Territories, all of which previously belonged to the independent states of Great Britain, France, Spain, Mexico, and Texas. By 1868, she was established as the Wyoming Territory. By July 10th, 1890, Wyoming joined the Union as a state. July 10th is her official birthday.

Height:

5'5

Motto:

"Equal Rights"

Image:

Original Chibi image created by hareno of deviantart

( This wiki page is still in heavy editing, as well as the character, so she's not fully developed as of now. Do not take too much to heart. )

"Our lifestyle, our life, our land and our water remain critical to our definition of Wyoming and to our economic future." - Dave Freudenthal
In The Making, Onward Westward...
( This section is still in heavy edit, but for now, you get a short previews with the help of "Wyoming" by Jim Ollhoff )
Native Americans - (Pre 1800s) Cheyenne, Sioux, Arapaho, Blackfeet, Nez Perce, Shoshone, and other tribes inhabit Wyoming.
Exploring - (1807) John Colter finds and explores Yellowstone.
Furs and Forts - (1834) Fur Traders Establish Fort Laramie. (1843) Fort Bridger is established.
Crossroad - (1850s) Wyoming becomes a 1840s-crossroads for people going west.
Railroads - (1860s)
National Park - (1872) Yellowstone, the first national park in the United States, is created.
Statehood - (1890) Wyoming becomes the 44th state.
Flapper - (1925) Nellie Tayloe Ross is sworn in as Wyoming's Governor. She becomes the nation's first female governor.
WW2 - (1945) Prisoner-of-war camps and 1941-Japanese-American relocation centers are set up in Wyoming during World War II.
Minerals of Industry - (1951) Uranium is discovered in Wyoming.
Present - (1980s - Now)
She's Got A Burr Under Her Saddle...
Chey Tayloe "Jones" is a rough girl, an independent child, and a strong woman, as many people have seen her in the past as a state where it's hard to live, and you must be strong to stand with. This leads to where her feminism and independence towards men show, and her title as the "Equality State", began. Wyoming was the first state to allow women full suffrage, and was once seen "the land of freedom" by many feminists, one being Susan B. Anthony. Wyoming was also the state with the first women governor, Nellie Tayloe Ross, who wasn't much of a feminist to begin with, but Chey holds Nellie's standing dear to her, even if she doesn't show it. Lately, it has been seen that Chey has become more of a hypocrite when it comes to her ideal roles of gender, and takes on more of a tomboy character rather than a political position. But Wyoming holds her tradition deep, much deeper than the cowgirl roots, and she still insists on being treated like everyone else. Because of this deep tradition, Wyoming takes on a conservatism outlook, and follows in the footsteps as a "Cowboy" or "True West" state, but this outlook was mainly taken on for her love and preservation of her land. With this viewpoint, Chey can be very ignorant and hold little understanding of the way the world moves, yet she thinks this is best, fearing that the outside world and its influence could ruin her and destroy what she has held dear and precious as an individual state. Insecurity, as we call it. Not only that, but Wyoming's economy depends on this environment, with oil, natural gas, coal mining, cattle ranching, hunting since the Native times, the small portion of agriculture, and of course, her tourists. As the least populated state, Wyoming is defined more through her physical features rather than her people, and could be a reason as to why she doesn't take much care towards her cities or people, expecting each of her children to care for her or grow a spine through her. With Yellowstone on her head, she can be very violent and easily angered. Without her helmet, Chey is more peaceful and calm, yet the ignorance or hypocrisy does not fade far. But by the end of the day, the only think she would like to do is rest with her family, chill in a hot spring, laze back, and watch the land. A nice beer and some drinking would be nice, too, for she never thinks there's too much beer for her Old Faithful or geysers. Don't think she won't take out a few classics of "The Man From Laramie" or a Clint Eastwood, Chey still loves and finds her cowgirl and western culture a much more relaxing treatment rather than a lifestyle to live by. Sattle up a bronco or bull, Wyoming's ready to last eight seconds, and take them cattle towards the sunset. And don't think she's not afraid to tell the great tales of the Cheyenne or Arapaho, for her Devil's Tower has become a big symbol to her, and her preservation…. Bears can stay out of the preservation, sadly…
Beware of her pet Jackalope, Douglas, too….
Appearance
Heritage: Arapaho/Shoshone Native(Margid Amerind), Lakota(Teton) Native(Silvid Amerind), and German(Baltic).
Because Wyoming is the least populated state of the 50, she is more defined by her physical features and history rather than her population. So the 25.9% of Wyoming's now largest ancestry group, German, has been put into her facial features (nose and eyebrows being a small mix). Most of these changes came when the pioneers and trappers rolled in.
Wyoming takes more to the Native American traits, because the state is a center of prehistoric Native American culture with evidence dating back over 12,000 years ago. The native groups were the Clovis, dating back 12,000 years ago, Falson, which was 10,000 years ago, and Eden Valley, going back 8,000 years ago. She now owns the seventh largest Indian reservation, the Wind River Reservation, home to both Arapaho and Shoshone natives. Her Lakota blood still runs high with her legends and to recognize the once Sioux Nation that was her land. Many of her landmarks, the more famous being Yellowstone and the Devil's Tower, delve deep into Native American traditions, history, and culture.
Hair: Brown, unkempt and spiky. Her hair was blue-black when she was founded by the trappers, but it became lighter and browner as she grew up with the settlers. The unkempt and spiky hair is also known as her trademark "helmet hair" from wearing the Yellowstone helmet. The spikes can represent the mountainous region of Wyoming, and she likes keeping it unkempt, refusing to get it brushed for her respect of 'natural' looks. A shoulder length pony tail on the right side of her helmet defines the Snake River. The river is represented by length, moving from the Yellowstone region to the Teton region, and the spikes are the mountains it moves through. An idiot hair that curls four times near the end is the symbol of the Devil's Tower(Lakota: "Mato Tipila-Bear's Lodge";Arapaho: "Bear's Tipi"), and is often kept on the left side of WY's head.
Eyes: Greyish-Blue, since Wyoming is only 64% sunny in the year. A much lighter blue for the grey was used for the German features.
Skin: Reddish brown, since Arapaho had very dark brown skin. The red tint comes from the semi-arid and continental lands, as well as from her Lakota blood.
Clothes: Her dress-wear is a brownish-yellow overdress with holes at the bottom right, where her mines are located. Under the dress is a white t-shirt, and black capris. She wears brownish-yellow boots to match, and her hat, Yellowstone National Park, is more of a brownish-yellow buffalo helmet. But a few quick trips to the JC-Penney "mother store" are always an exception for a shopping trip, despite her lack of wanting to be "fashionable."
Three bear scratches move down her side, one for Devil's Tower, one for Fetterman Massacre, and the other for the Wyoming Massacre.
Relationships
Chey is considered a loner, no doubt about it. Wyoming prides itself as a live-and-let-live way of life, which is understandable for the wide, empty lands. Her "Equal Rights" motto translates to "Butt Out", and as long as you keep on your side of the fence, she'll keep on her side of the fence.
State Symbols
State Bird - Western Meadowlark
State Butterfly - Sheridan's Green Hairstreak
State Coin - The Sacajawea Golden Dollar Coin
State Dinosaur - Triceratops
State Fish - Cutthroat Trout
State Flower - Indian Paintbrush
State Fossil - Knightia
State Gemstone - Jade
State Grass - Western Wheatgrass
State Mammal - Bison
State Reptile - Horned Toad
State Mythical Creature - Jackalope
State Song - "Wyoming"
State Sport - Rodeo
State Tree - Plains Cottonwood
Trivia
-Wyoming's original design was a male, but after a few more amounts of research, it was decided that Wyoming would be female. The original male design is used for her capital city, Cheyenne.
-The anger that erupts from Chey with the Yellowstone helmet is the Yellowstone Caldera, a super volcano that has enough power to take out the continent, and maybe destroy the entire world.
-"Greenie" is a term used by many Southern Wyomingites to describe one from Colorado.
-Douglas the Jackalope is named after Douglas, Wyoming. This is the "Home of the Jackalope" town.
-Within Wyoming's home, she keeps an odd looking doorstop and an ashtray that resemble skull pieces, and well as a pair of shoes that are made of human skin. Once George Manuse, an outlaw once known as "Big Nose George", died, John Osborne, a doctor who went on to become the governor of Wyoming, used George's remains to create the doorstop, shoes, and ash tray. Osborne would later wear the shoes once he became governor of Wyoming, which Chey must of also worn at a time. The rest of "Big Nose"'s remains can be found in the Carbon County Museum in Rawlins, WY.
-Chey's favorite word is "dude", and often refers to the east, specifically IL, NY, NJ, and MA, as "dudes." The word "dude" supposedly may have originated in Wyoming. Western lifestyle became popular throughout America in the early 20th century and as such Wyoming saw an increase in tourism. The story goes to the first "Dude Ranch" was started near Wolf, Wyoming. Westerners began calling tourists from the East "dudes", which generally meant a person who has never lived outside a city.
-"Son-Of-A-Bitch," is her favorite phrase since her hero, 'The Virginian.'
-Wyoming has a modest love of shopping at the JCPenney, for James Cash Penny founded the multi million dollar company in Kemmerer, Wyoming in 1902. The original "mother store" still operates today.
-Chey's fear of bears comes from the tales of the Devil's Tower, and each tale told involved a bear. The landmark is a large rock, which has been carved and created by what looks like bear claws.
-Wyoming is the second most trigger happy state in the country. She loves her rights to bear arms, and keeps a pistol holder on her leg under her dress, sometimes on a belt.
-Chey's breasts are referred to as the Teton Mountain Range because 'teton' is the French word for 'breast', and Grand Teton means 'large tit'. As the story goes, the term was coined by an early 19th century French journeyman who somehow imagined the mountains to look like the breasts of a woman. Today, the Tetons are deemed as mountains of dreams, impenetrable and protective of the hidden lands that it stands over.
- The Great Seal of Wyoming: Wyoming gained statehood in 1890, and waited for its second Legislature to approve an official seal three years later. The most prominent feature of Wyoming's seal is the central figure of a woman standing before a banner which reads "Equal Rights". Wyoming bears the honorable distinction of being at the forefront of states advocating equal rights for men and women, well before the turn of the century. On either side of the female figure are two pillars, each with scrolls that proclaim Wyoming's major economic strengths: oil, mines, livestock, and grain. On each pillar are burning lamps, symbolizing the Light of Knowledge. In the foreground, a striped shield and star, topped by an eagle, represent Wyoming's sovereignty and dedication to the Union. The number 44 identifies Wyoming as the 44th state to enter the Union. On either side of the shield are the dates 1869 and 1890, which represent, respectively, the date that Wyoming organized as a Territory, and the date that Wyoming gained statehood. Flanking the pillars are figures representing the livestock and mining industries. The outer circle bears the words "Great Seal of the State of Wyoming".
-Wyoming's Flag: A bison, the Wyoming State mammal and often called the monarch of the plains, is centered on the flag. Branded on the bison is the Great Seal of Wyoming. In the original design approved by the State Legislature the bison is shown facing away from the staff. Verna(The flag designer) had drawn the bison as facing away from the staff symbolizing the freedom with which the bison had once roamed over the Wyoming plains. Dr. Hebard( A proffesor at the University of Wyoming, who suggested the idea to make the flag) had not agreed with this and suggested that better balance of design would be achieved if the bison faced the staff. This is the way that the first flags were manufactured and, though not "official" this is how the bison has been shown since 1917. The colors of the State Flag are the same as those of the National Flag. The red border represents the Indians who knew and loved the country long before the settlers came.; also the blood of the pioneers who gave their lives reclaiming the soil. White is the emblem of purity and uprightness over Wyoming. Blue, the color of the sky and mountains, is symbolic of fidelity, justice and virility.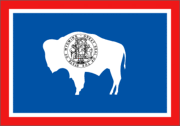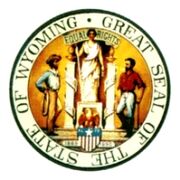 Talk Like Chey
Vocabulary-
Dude: Person Who Never Lived Outside a City
Out In the Boonies: Rural Areas
Candy-Ass: Whiner; Baby
Don't Run Off Mad: Stay A Little Longer; Come Back Soon
Buckle Bunny: Girl Who Chases After Pro Rodeo Cowboys
Gunsel: Someone Not Familiar With The Western Ways
Shit Kickers: Cowboy Boots
Dinner: Lunch
Supper: Dinner
Chicken Shit: Two-Faced; Backstabber
Son-Of-A-Bitch: Son Of A Bitch
Warsh Rag: Wash Cloth
Heifer: Unpleasant Young Woman
Sow: Unpleasant Older Woman
Hasp or Hame: Any Part Of A Horse Tack That You Don't Know The Proper Name Of
Go Cup: Plastic Glass With An Alcoholic Beverage, Used To Transport Said Beverage From One Place To Another, From Bar To Bar; Party To Bar; Bar To Party; Party To Party; Etc. Etc.
Wanna: Want To, Want A
Gunna: Preparing To
Beer Maiden: Cocktail Waitress
Phrases:
"Looks like you've been rode hard and put away wet."
Translation: "You look a tad under the weather."
"You're just one more son-of-a-bitch I don't haveta like."
Translation: "I don't care for you, nor do I feel that it is necessary for me to do so."
"It's rainin' harder than a cow pissin' on a flat rock."
Translation: "It's raining quite hard."
"It's colder than a whore's heart."
Translation: "It's a bit chilly."

"He's uglier than a mud fence."
Translation: "He is not particularly handsome."
"He looked like a 10 miles of dirt road."
Translation: "He appeared somewhat disheveled."
"I'm hornier than a three peckered billy-goat."
Translation: "I would be quite amenable to a sexual encounter."
"This ain't my first rodeo."
Translation: "Been there, done that."
"He's to dumb to pour piss out of a boot."
Translation: "His IQ is not particularly high."
"It's darker than 3 foot up a bulls ass."
Translation: "It's really dark."
"He's as worthless as tits on a boar."
Translation: "He's not much help."
"Git over it or die that way."
Translation: "Stop being such a candy-ass."
"Lets go, let's show, let's rodeo."
Translation: "Time to go."
"People in hell wanna glass of ice water."
Translation: "Sorry, you can't have what you want."
"Go piss up a rope."
Translation: "I don't agree with what you're saying."
"The hell you say."
Translation: "Really?"
"Wanna come with?"
Translation: "Would you care to accompany me?"
"He's got a burr under his saddle."
Translation: "He's in a bad mood."
"Watch that door."
Translation: "Get out."
Creator
Community content is available under
CC-BY-SA
unless otherwise noted.