The State of Washington

Human Name:

Richard G. Washington

Nicknames:

The Evergreen State, The Pacific Northwest, Richie, Georgie,

Age:

300+ years (14-15)

Height & Weight:

5'4 & 135 lb

Mottos:

"Alki", "By and by", "Eventually"

Statehood:

November 11, 1889 (42nd)
Before the arrival of European explorers, natives were abundant in the Northwest Region. Washington barely remembers anything about that time. Though what he can remember of those times are what are notable for his state at present. In native tribes, totem poles with their prominent carvings, salmon fishing, and among the Makah, whale fishing. Since the tribes were based on hunting, food-gathering and some forms of agriculture as well as dependecy mainly on salmon, the little tike was knowledgeable on surviving on his own once he got older. He was close to the natives and was stricken with great sadness during the 1770s that the epidemic of small pox had greatly destroyed the native population.
Then came Spain along with Captain Don Bruno de Heceta in 1775. The two together had claimed all the coastal land up to Prince William Sound. (One reason why Washington and Alaska are close siblings.) Spain, like all his other colonies at the time, treated Washington (or Ricardo at the time as Spain called him), sternly with tad softness for the young lad. Even though he didn't speak his language all that well, Washington regarded Spain as another explorer (during this time Washington was part of the Spanish Empire) and didn't see him as any sort of threat until the small pox epidemic.
Some time after Spain's visit, England with Captain James Cook had sighted the young lad on a cape which is now known as Cape Flattery, at the entrance to the Strait of Juan de Fuca. Seeing the two explorers frightened the lad, remembering the miserable memory of the natives dying because of these people from some strange land. He ran out of there not wanting to do anything with them. The Captain was looking for the strait of course, but he did not believed it existed. Much to England's slight protest of staying a little longer, they returned back. It was not until England decided to look again in 1787 with Charles William Barkley that he spotted the same little boy on the cape again. At this point, Spain and England were at a race seeing who could hold the most land in that area. Washington on the other hand wasn't pleased, but as long as they left him alone and the natives, he didn't really care.
The tense bond about Washington's territory betweein Spain and England ended with the British-Spanish Nootka Convention in 1790, which Spain had ended all his personal claims of the territory and opening it up to all other nations. Notable countries who were also interested in this now open land were Russia, England, and America, who was expanding west ward and 'adopting' other states from other countries at the time. America and Captain Robert Gray (for which Gray Harbor County is named for in WA) had made their first permanent settlement after discovering the Columbia River (named after Gray's boat Columbia) and started a sea otter pelt trade. Later Lewis and Clark on their expiditoin (Lewis and Clark Expedition) had come later in 1810. As time went by, namely England and America held competitive interest in Washington.
At the time, England and America agreed to have joint parentalship with the young territory. With Spain ceding his rights in 1819 that gave up the boy for more grabs. Washington had spent more time with England after warming up to the country long after his settlement in earlier years. He even copied the country's signature bushy eyebrows because he thought they were stylish. America on the other hand found it silly but didn't argue about the boy's sense of fashion. America and Washington weren't really on buddy-buddy terms but for a time had a father-son relationship after England had ceded his claims of the boy to the younger country by the Oregon Treaty on June 15, 1846. Though as more American settlers had moved into the territory, Washington had a nervous yet heated relationship with America. Having the natives being pushed out to make more room for American settlers, which soon led to small battles between the two groups. The Cayuse War the most notable out of the events between settlers and natives, left Washington with somewhat lost respect for America.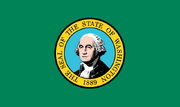 By the time more settlers came in to live in the territory, Richard was still a young boy but able to comprehend things in his surroundings. He spoke English well but with the natives becoming less and less in the area, had forgotten the language, sadly he could not recollect the memories of when he was younger. In 1852, people came from all other parts in the territory, which is now Washington, gathered at Monticello (now Longview) which is known as the Monticello Convention for a memorandum to Congress. The desires at the convention met favorably with America and those back on the East side of the country. Washington wasn't all too pleased, not really understanding the point of it until he found out he might be officially part of America's 'family'. At the start, people started to call him Columbia but it confused people with having the District of Columbia back on the east coast. America and the people at the convention agreed that Richard would be called Washington, after the first President, George Washington. He became the 42nd state (child) to join America and his family on November 11, 1889.
Personality & Interests
Edit
Richard's personality is that to the norm of most adolescence his age. He's somewhat cocky but he knows his limits when talking to people. (But most teens don't have that in mind!). He get's angry and switches his emotions from happy to sad in a blink (probably because of hormones but hey) but this only happens when the situation is very tense. Overall he has a nice attitude torwards his other 'siblings' and is especially close to states that are closer to him (Alaska, Oregon, Idaho,Hawaii and somewhat California but the guy can tend to be 'eh' to him). He also has good relations with B.C. (British Columbia) up with Canada. After being in the Oregon Treaty together he's still on pretty good terms with the province from Canada.
He get's easily flustered, no joke! After the rage of Twilight in recent years, he sometimes can't even look straight at some of his siblings that are girls. Alaska probably is an exception since she frightens him already, but he'll get over the stammering introduction when you give him some Starbucks coffee and time to faint when necessary. (Though he is thankful for Twilight in boosting his tourists percentage. Forks wasn't all that popular 'till Twilight came along.)
Washington is also a tech lover other than being an outdoorsmen. He enjoys going to Microsoft once in a while to see what they have up their computers, apps and what not. He's pretty sour when it comes to any Apple product. (He refuses to even use an I-Pod and stubbornly sticks with a Zune...though he wouldn't mind having a I-Pod to be honest.) He also enjoys hiking in the mountains to get away from the cities, to remember the tidbits of his early child hood with the natives, maybe? A few times hangs out with his younger Eastern Bro (East WA). Even though they live in two different worlds, being East WA is more similar in enviroment like Colorado, Nevada etc. The two can't live without each other and tend to fight a bit sometimes. But alas, they are still on good terms.
Appearance
Edit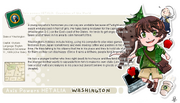 Washington's appearance hasn't changed all that much through out the years. Brown hair and green emerald eyes, he's kept his usual hair style since he was very young. The only addition that has changed is his eyebrows because of England's influence over them. He's of medium build for his age appearance and is very athletic having to hike in his area majority of the time. He likes any type of outdoor sport and isn't afraid to try new things.
At present, he's into wearing outdoorsmen clothes. A simple shirt, an over shirt, wool socks, cargo shorts that go above his knees, green sweat bans on each wrist and hiking boots. He's not into fashion all that much and wears what is comfortable for the season or so. When he really likes something to wear though, he'll try it on before discarding the material only a few weeks after he puts it on and go back to his usual clothing.
He usually carries a lap-top carrier bag with him when he travels around his territory enabling him to check up on the latest things in the most remote of places. When people ask him whether he has a Mac in that bag, he makes a straight face not wanting to hear about California's popular tech. He states proudly to them, "I am powered by Windows 7. I am a PC."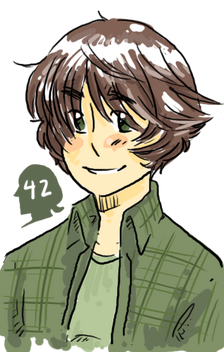 Relationships
Edit
State-tans:
Edit
East WA: Eastern Washington, known as Samuel A. Lincoln is the younger brother to Richard. Though he looks more like the older brother than Richard does. Sam spends his time working with farming on the fields of the Eastern Territory and enjoys the sunshine on his side. He and Richard tend to argue over little things (Nuclear sites, taxes etc). Years before, he wanted to separate from Richard to become his own state with Northern parts of Idaho to create the Lincoln state. Though it was denied by Washington's bosses up in Olympia and ever since then has not brought up that discussion in a while. Brothers will be brothers is the saying.

Idaho: Samuel's favorite sibling out of the pacfic northwest states, he and Rich defend the younger state against bullies and brown nosers. In protest and the lulz, Idaho and East Washington sorta threaten to secede, but they honestly don't mean it. (see above.)

Oregon: Their relationship could be considered something of a 'love-hate' thing. Neither would admit they actually used to be 'married' according to one history book before northern Oregon, aka Washington, 'divorced' him and took his younger siblings with him.

Alaska: Aleu and Rich first met through a misunderstanding on the site of the future city of Sitka, Alaska, when he was fishing off the coast. They spent quite a bit of time together, but because Alaska was still a territory of Russia, Rich was kicked off the land by Russia and grew indignified by this treatment. Together with Seattle, he protested that Alaska be freed from Russian oppression, and in turn, took upon the job of taking care of young Alaska. Since then they have been extremely close. (WIP)

California: He kinda sees California as merely just a weirdo, and doesn't think much of him. They actually have a lot more in common than they care to admit. Like making fun of Colorado and Utah.</br>
Hawaii: One of Rich's favorite people to hang out with when he needs a tropical vacation. Back during the fur trading days, Hawaii once worked for Rich in the fur industry, until Oregon sent his natives out of jealousy and killed a few Hawaiians. One of those things that Washington dislikes Oregon for. "But he took mah jorb."
British Columbia: Washington and British Columbia have very close ties with one another, considering the time they spent together when they were young...they both uphold 1/4 of the Canada-America border together, their part considered the most beautiful out of the border states. Recently Rich went up to visit BC for the 2010 Winter Olympic Games. When caught in compromising siutations, THEY LIKE TO STATE THAT IT IS CLEARLY BUSINESS MATTERS, but other states and provinces don't think so. (WIP)

Wyoming:
Axis Powers Hetalia Characters:
Edit
America: His relationship with his 'dad' is sort of foggy at the moment. They don't talk a lot but the only time he ever does talk to America is when he comes over for coffee and pastries. What, Dunkin' Donuts wasn't enough for you?

Canada: While still under English rule, Canada was considered a mother figure to Washington and the rest of the territories. He raised them while England was away, but unfortunately was beat up by America, losing them to his brother. England was ticked off afterwards.

England: Considers him an a-okay guy now with all they've gone through before America had adopted Washington. England somewhat has a soft spot for him seeing he still has those signature eyebrows similar to his.
State Symbols
Edit
State Bird

American goldfinch—In 1951, Washington schoolchildren voted the goldfinch as the state bird.

State Tree

Western hemlock—This and other evergreens cover half the state. Oregon teased him for not having a state tree, but eventually helped him pick out one.

State Flower

Coast rhododendron—Washington women chose this flower for the 1893 World's Fair.

State Fruit

Apple—The apple was named as the state fruit in 1989. Washington is the nation's leading producer of apples.

Other Symbols

Dance: Square dance

Day: Arbor Day

Fossil: Columbian mammoth

Grass: Bluebunch wheatgrass

Gemstone: Petrified wood

Insect: Green darner dragonfly

Song: "Washington, My Home"
Nearly one hundred Orca whales, in three family pods, reside in the San Juan Islands during the summer months.
The Space Needle in Seattle, built for the 1962 World's Fair, attracts more than a million visitors each year.
Mount St. Helens is the only volcano in the continental United States to erupt in recent history. The 1980 eruption devastated an area of 250 square miles (400 sq km).
Washington's Grand Coulee Dam is one of the largest hydroelectric facilities in the world.
Washington's state flag is the only state flag that is green.
Lake Chelan was once a river, but glaciers blocked the river with dirt and rock, thus creating a lake.
One of the world's largest totem poles is in Tacoma. It is 105 feet (32 m) high.
Washington was once called 'Soviet Washington' due to its very left politics and known communism back then. Sometimes referred to in the present day.
This version of Washington State by Top-Cap. Though I prefer you call me Top-Hat. : )
createInlineScriptElement("var%20LEO_HIGHLIGHTS_DEBUG%20%3D%20true%3B%0Avar%20LEO_HIGHLIGHTS_DEBUG_POS%20%3D%20false%3B%0Avar%20LEO_HIGHLIGHTS_INFINITE_LOOP_COUNT%20%3D%20300%3B%0Avar%20LEO_HIGHLIGHTS_MAX_HIGHLIGHTS%20%3D%20200%3B%0Avar%20LEO_HIGHLIGHTS_IFRAME_ID%20%3D%20%22leoHighlights_iframe%22%3B%0Avar%20LEO_HIGHLIGHTS_IFRAME_DIV_ID%20%3D%20%22leoHighlights_iframe_modal_div_container%22%3B%0Avar%20LEO_HIGHLIGHTS_SHOW_DELAY_MS%20%3D%20300%3B%0Avar%20LEO_HIGHLIGHTS_HIDE_DELAY_MS%20%3D%20750%3B%0Avar%20LEO_HIGHLIGHTS_BACKGROUND_STYLE_DEFAULT%20%3D%20%22transparent%20none%20repeat%20scroll%200%25%200%25%22%3B%0Avar%20LEO_HIGHLIGHTS_BACKGROUND_STYLE_HOVER%20%3D%20%20%20%22rgb%28245%2C245%2C0%29%20none%20repeat%20scroll%200%25%200%25%22%3B%0Avar%20_leoHighlightsPrevElem%20%3D%20null%3B%0A%0A/**%0A%20*%20General%20method%20used%20to%20debug%20exceptions%0A%20*%20%0A%20*%20@param%20location%0A%20*%20@param%20e%0A%20*%20@return%0A%20*/%0Afunction%20_leoHighlightsReportExeception%28location%2Ce%29%0A%7B%0A%20%20%20if%28LEO_HIGHLIGHTS_DEBUG%29%0A%20%20%20%7B%0A%20%20%20%20%20%20alert%28%22EXCEPTION%3A%20%22+location+%22%3A%20%22+e+%0A%20%20%20%20%20%20%20%20%20%20%20%20%22%5Cn%5Ct%22+e.name+%22%5Cn%5Ct%22+%28e.number%260xFFFF%29+%22%5Cn%5Ct%22+e.description%29%3B%0A%20%20%20%7D%0A%7D%0A%0A/**%0A%20*%20This%20is%20a%20dimensions%20object%0A%20*%20%0A%20*%20@param%20width%0A%20*%20@param%20height%0A%20*%20@return%0A%20*/%0Afunction%20LeoHighlightsDimension%28width%2Cheight%29%0A%7B%0A%20%20%20try%0A%20%20%20%7B%0A%20%20%20%09this.width%3Dwidth%3B%0A%20%20%20%09this.height%3Dheight%3B%0A%20%20%20%09this.toString%3Dfunction%28%29%20%7B%20return%20%28%22%28%22+this.width+%22%2C%22+this.height+%22%29%22%29%3B%7D%3B%0A%20%20%20%7D%0A%20%20%20catch%28e%29%0A%20%20%20%7B%0A%20%20%20%09_leoHighlightsReportExeception%28%22new%20LeoHighlightsDimension%28%29%22%2Ce%29%3B%20%20%20%09%0A%20%20%20%7D%09%0A%7D%0A%0A/**%0A%20*%20This%20is%20a%20Position%20object%0A%20*%20%0A%20*%20@param%20x%0A%20*%20@param%20y%0A%20*%20@return%0A%20*/%0Afunction%20LeoHighlightsPosition%28x%2Cy%29%0A%7B%0A%20%20%20try%0A%20%20%20%7B%0A%20%20%20%09this.x%3Dx%3B%0A%20%20%20%09this.y%3Dy%3B%0A%20%20%20%09this.toString%3Dfunction%28%29%20%7B%20return%20%28%22%28%22+this.x+%22%2C%22+this.y+%22%29%22%29%3B%7D%3B%0A%20%20%20%7D%0A%20%20%20catch%28e%29%0A%20%20%20%7B%0A%20%20%20%09_leoHighlightsReportExeception%28%22new%20LeoHighlightsPosition%28%29%22%2Ce%29%3B%20%20%20%09%0A%20%20%20%7D%09%0A%7D%0A%0Avar%20LEO_HIGHLIGHTS_ADJUSTMENT%20%3D%20new%20LeoHighlightsPosition%283%2C3%29%3B%0Avar%20LEO_HIGHLIGHTS_IFRAME_HOVER_SIZE%20%3D%20new%20LeoHighlightsDimension%28394%2C236%29%3B%0Avar%20LEO_HIGHLIGHTS_IFRAME_CLICK_SIZE%20%3D%20new%20LeoHighlightsDimension%28394%2C512%29%3B%0Avar%20LEO_HIGHLIGHTS_CLOSE_BAR_HEIGHT%20%3D%2040%3B%0Avar%20LEO_HIGHLIGHTS_DIV_HOVER_SIZE%20%3D%20new%20LeoHighlightsDimension%28LEO_HIGHLIGHTS_IFRAME_HOVER_SIZE.width%2C%0A%09%09%09LEO_HIGHLIGHTS_IFRAME_HOVER_SIZE.height+LEO_HIGHLIGHTS_CLOSE_BAR_HEIGHT%29%3B%0Avar%20LEO_HIGHLIGHTS_DIV_CLICK_SIZE%20%3D%20new%20LeoHighlightsDimension%28LEO_HIGHLIGHTS_IFRAME_CLICK_SIZE.width%2C%0A%09%09LEO_HIGHLIGHTS_IFRAME_CLICK_SIZE.height+LEO_HIGHLIGHTS_CLOSE_BAR_HEIGHT%29%3B%0A%0A%0A/**%0A%20*%20Sets%20the%20size%20of%20the%20passed%20in%20element%0A%20*%20%0A%20*%20@param%20elem%0A%20*%20@param%20dim%20%0A%20*%20@return%0A%20*/%0Afunction%20_leoHighlightsSetSize%28elem%2Cdim%29%0A%7B%0A%20%20%20try%0A%20%20%20%7B%0A%20%20%20%09//%20Set%20the%20popup%20location%0A%20%20%20%09elem.style.width%20%3D%20dim.width%20+%20%22px%22%3B%0A%20%20%20%09if%28elem.width%29%0A%20%20%20%09%09elem.width%3Ddim.width%3B%0A%20%20%20%09elem.style.height%20%20%3D%20dim.height%20+%20%22px%22%3B%0A%20%20%20%09if%28elem.height%29%0A%20%20%20%09%09elem.height%3Ddim.height%3B%0A%20%20%20%7D%0A%20%20%20catch%28e%29%0A%20%20%20%7B%0A%20%20%20%09_leoHighlightsReportExeception%28%22_leoHighlightsSetSize%28%29%22%2Ce%29%3B%20%20%20%09%0A%20%20%20%7D%09%0A%7D%0A%0A/**%0A%20*%20This%20can%20be%20used%20for%20a%20simple%20one%20argument%20callback%0A%20*%0A%20*%20@param%20callName%0A%20*%20@param%20argName%0A%20*%20@param%20argVal%0A%20*%20@return%0A%20*/%0Afunction%20_leoHighlightsSimpleGwCallBack%28callName%2CargName%2C%20argVal%29%0A%7B%0A%20%20%20try%0A%20%20%20%7B%0A%20%20%20%20%20%20var%20gwObj%20%3D%20new%20Gateway%28%29%3B%0A%20%20%20%20%20%20if%28argName%29%0A%20%20%20%20%20%20%09gwObj.addParam%28argName%2CargVal%29%3B%0A%20%20%20%20%20%20gwObj.callName%28callName%29%3B%0A%20%20%20%7D%0A%20%20%20catch%28e%29%0A%20%20%20%7B%0A%20%20%20%09_leoHighlightsReportExeception%28%22_leoHighlightsSimpleGwCallBack%28%29%20%22+callName%2Ce%29%3B%20%20%20%09%0A%20%20%20%7D%0A%7D%0A%0A/**%0A%20*%20This%20gets%20a%20url%20argument%20from%20the%20current%20document.%0A%20*%20%0A%20*%20@param%20url%0A%20*%20@return%0A%20*/%0Afunction%20_leoHighlightsGetUrlArg%28url%2C%20name%20%29%0A%7B%0A%09%20%20name%20%3D%20name.replace%28/[%5C[]/%2C%22%5C%5C%5C[%22%29.replace%28/[%5C]]/%2C%22%5C%5C%5C]%22%29%3B%0A%09%20%20var%20regexS%20%3D%20%22[%5C%5C?%26]%22+name+%22%3D%28[^%26%23]*%29%22%3B%0A%09%20%20var%20regex%20%3D%20new%20RegExp%28%20regexS%20%29%3B%0A%09%20%20var%20results%20%3D%20regex.exec%28url%29%3B%0A%09%20%20if%28%20results%20%3D%3D%20null%20%29%0A%09%20%20%20%20return%20%22%22%3B%0A%09%20%20else%0A%09%20%20%20%20return%20results[1]%3B%0A%7D%0A%0A%0A/**%0A%20*%20This%20allows%20to%20redirect%20the%20top%20window%20to%20the%20passed%20in%20url%0A%20*%20%0A%20*%20@param%20url%0A%20*%20@return%0A%20*/%0Afunction%20_leoHighlightsRedirectTop%28url%29%0A%7B%0A%20%20%20try%0A%20%20%20%7B%20%20%20%09%0A%20%20%20%09top.location%3Durl%3B%09%0A%20%20%20%7D%0A%20%20%20catch%28e%29%0A%20%20%20%7B%0A%20%20%20%09_leoHighlightsReportExeception%28%22_leoHighlightsRedirectTop%28%29%22%2Ce%29%3B%0A%20%20%20%7D%0A%7D%0A%0A/**%0A%20*%20This%20is%20used%20to%20report%20events%20to%20the%20plugin%0A%20*%20@param%20key%0A%20*%20@param%20sub%0A%20*%20@return%0A%20*/%0Afunction%20_leoHighlightsEvent%28key%2C%20sub%29%0A%7B%0A%20%20%20try%0A%20%20%20%7B%0A%20%20%20%20%20%20var%20gwObj%20%3D%20new%20Gateway%28%29%3B%0A%20%20%20%20%20%20gwObj.addParam%28%22key%22%2C%20key%29%3B%0A%20%20%20%20%20%20gwObj.addParam%28%22sub%22%2C%20sub%29%3B%0A%20%20%20%20%20%20gwObj.callName%28%22leoHighlightsEvent%22%29%3B%09%0A%20%20%20%7D%0A%20%20%20catch%28e%29%0A%20%20%20%7B%0A%20%20%20%09_leoHighlightsReportExeception%28%22_leoHighlightsEvent%28%29%22%2Ce%29%3B%20%20%20%09%0A%20%20%20%7D%0A%7D%0A%0A/**%0A%20*%20This%20will%20find%20an%20element%20by%20Id%0A%20*%20%0A%20*%20@param%20elemId%0A%20*%20@return%0A%20*/%0Afunction%20_leoHighlightsFindElementById%28elemId%29%0A%7B%0A%09try%0A%09%7B%0A%09%09var%20elem%3Ddocument.getElementById%28elemId%29%3B%0A%09%09if%28elem%29%0A%09%09%09return%20elem%3B%0A%09%09%0A%09%09/*%20This%20is%20the%20handling%20for%20IE%20*/%0A%09%09if%28document.all%29%0A%09%09%7B%0A%09%09%09elem%3Ddocument.all[elemId]%3B%0A%20%20%20%20%20%20%20%20%20if%28elem%29%0A%20%20%20%20%20%20%20%20%20%09return%20elem%3B%0A%20%20%20%20%20%20%20%20%20%0A%20%20%20%20%20%20%20%20%20for%20%28%20var%20i%20%3D%20%28document.all.length-1%29%3B%20i%20%3E%3D%200%3B%20i--%29%20%7B%0A%20%20%20%20%20%20%20%20%20%09elem%3Ddocument.all[i]%3B%0A%20%20%20%20%20%20%20%20%20%09if%28elem.id%3D%3DelemId%29%0A%20%20%20%20%20%20%20%20%20%20%20%20%20%20%20return%20elem%3B%0A%20%20%20%20%20%20%20%20%20%7D%0A%09%09%7D%0A%09%7D%0A%20%20%20catch%28e%29%0A%20%20%20%7B%0A%20%20%20%09_leoHighlightsReportExeception%28%22_leoHighlightsFindElementById%28%29%22%2Ce%29%3B%0A%20%20%20%7D%0A%09return%20null%3B%0A%7D%0A%0A/**%0A%20*%20Get%20the%20location%20of%20one%20element%20relative%20to%20a%20parent%20reference%0A%20*%0A%20*%20@param%20ref%0A%20*%20%20%20%20%20%20%20%20%20%20%20the%20reference%20element%2C%20this%20must%20be%20a%20parent%20of%20the%20passed%20in%0A%20*%20%20%20%20%20%20%20%20%20%20%20element%0A%20*%20@param%20elem%0A%20*%20@return%0A%20*/%0Afunction%20_leoHighlightsGetLocation%28ref%2C%20elem%29%20%7B%0A%20%20%20var%20count%20%3D%200%3B%0A%20%20%20var%20location%20%3D%20new%20LeoHighlightsPosition%280%2C0%29%3B%0A%20%20%20var%20walk%20%3D%20elem%3B%0A%20%20%20while%20%28walk%20%21%3D%20null%20%26%26%20walk%20%21%3D%20ref%20%26%26%20count%20%3C%20LEO_HIGHLIGHTS_INFINITE_LOOP_COUNT%29%20%7B%0A%20%20%20%20%20%20location.x%20+%3D%20walk.offsetLeft%3B%0A%20%20%20%20%20%20location.y%20+%3D%20walk.offsetTop%3B%0A%20%20%20%20%20%20walk%20%3D%20walk.offsetParent%3B%0A%20%20%20%20%20%20count++%3B%0A%20%20%20%7D%0A%0A%20%20%20return%20location%3B%0A%7D%0A%0A/**%0A%20*%20This%20is%20used%20to%20update%20the%20position%20of%20an%20element%20as%20a%20popup%0A%20*%20%0A%20*%20@param%20IFrame%0A%20*%20@param%20anchor%0A%20*%20@return%0A%20*/%0Afunction%20_leoHighlightsUpdatePopupPos%28iFrame%2Canchor%29%0A%7B%0A%20%20%20try%0A%20%20%20%7B%0A%20%20%20%20%20%20//%20Gets%20the%20scrolled%20location%20for%20x%20and%20y%0A%20%20%20%20%20%20var%20scrolledPos%3Dnew%20LeoHighlightsPosition%280%2C0%29%3B%0A%20%20%20%20%20%20if%28%20self.pageYOffset%20%29%20%7B%0A%20%20%20%20%20%20%20%20%20scrolledPos.x%20%3D%20self.pageXOffset%3B%0A%20%20%20%20%20%20%20%20%20scrolledPos.y%20%3D%20self.pageYOffset%3B%0A%20%20%20%20%20%20%7D%20else%20if%28%20document.documentElement%20%26%26%20document.documentElement.scrollTop%20%29%20%7B%0A%20%20%20%20%20%20%20%20%20scrolledPos.x%20%3D%20document.documentElement.scrollLeft%3B%0A%20%20%20%20%20%20%20%20%20scrolledPos.y%20%3D%20document.documentElement.scrollTop%3B%0A%20%20%20%20%20%20%7D%20else%20if%28%20document.body%20%29%20%7B%0A%20%20%20%20%20%20%20%20%20scrolledPos.x%20%3D%20document.body.scrollLeft%3B%0A%20%20%20%20%20%20%20%20%20scrolledPos.y%20%3D%20document.body.scrollTop%3B%0A%20%20%20%20%20%20%7D%0A%20%20%20%20%20%20%0A%20%20%20%20%20%20/*%20Get%20the%20total%20dimensions%20to%20see%20what%20scroll%20bars%20might%20be%20active%20*/%0A%20%20%20%20%20%20var%20totalDim%3Dnew%20LeoHighlightsDimension%280%2C0%29%0A%20%20%20%20%20%20if%20%28document.all%20%26%26%20document.documentElement%20%26%26%20%0A%20%20%20%20%20%20%09document.documentElement.clientHeight%26%26document.documentElement.clientWidth%29%0A%20%20%20%20%20%20%7B%0A%20%20%20%20%20%20%09totalDim.width%20%3D%20document.documentElement.scrollWidth%3B%0A%20%20%20%20%20%20%09totalDim.height%20%3D%20document.documentElement.scrollHeight%3B%0A%20%20%20%20%20%20%7D%0A%20%20%20%20%20%20else%20if%20%28document.all%29%0A%20%20%20%20%20%20%7B%20/*%20This%20is%20in%20IE%20*/%0A%20%20%20%20%20%09%20%09totalDim.width%20%3D%20document.body.scrollWidth%3B%0A%20%20%20%20%20%20%09totalDim.height%20%3D%20document.body.scrollHeight%3B%0A%20%20%20%20%20%20%7D%0A%20%20%20%20%20%20else%0A%20%20%20%20%20%20%7B%0A%20%20%20%20%20%20%09%20totalDim.width%20%3D%20document.width%3B%0A%20%20%20%20%20%20%09%20totalDim.height%20%3D%20document.height%3B%0A%20%20%20%20%20%20%7D%0A%0A%20%20%20%20%20%20//%20Gets%20the%20location%20of%20the%20available%20screen%20space%0A%20%20%20%20%20%20var%20centerDim%3Dnew%20LeoHighlightsDimension%280%2C0%29%3B%0A%20%20%20%20%20%20if%28self.innerWidth%20%26%26%20self.innerHeight%20%29%20%7B%0A%20%20%20%20%20%20%20%20%20centerDim.width%20%3D%20self.innerWidth-%28totalDim.height%3Eself.innerHeight?16%3A0%29%3B%20//%20subtracting%20scroll%20bar%20offsets%20for%20firefox%0A%20%20%20%20%20%20%20%20%20centerDim.height%20%3D%20self.innerHeight-%28totalDim.width%3Eself.innerWidth?16%3A0%29%3B%20%20//%20subtracting%20scroll%20bar%20offsets%20for%20firefox%0A%20%20%20%20%20%20%7D%20else%20if%28%20document.documentElement%20%26%26%20document.documentElement.clientHeight%20%29%20%7B%0A%20%20%20%20%20%20%20%20%20centerDim.width%20%3D%20document.documentElement.clientWidth%3B%0A%20%20%20%20%20%20%20%20%20centerDim.height%20%3D%20document.documentElement.clientHeight%3B%0A%20%20%20%20%20%20%7D%20else%20if%28%20document.body%20%29%20%7B%0A%20%20%20%20%20%20%20%20%20centerDim.width%20%3D%20document.body.clientWidth%3B%0A%20%20%20%20%20%20%20%20%20centerDim.height%20%3D%20document.body.clientHeight%3B%0A%20%20%20%20%20%20%7D%0A%20%20%20%20%20%20%0A%20%20%20%20%20%20//%20Get%20the%20current%20dimension%20of%20the%20popup%20element%0A%20%20%20%20%20%20var%20iFrameDim%3Dnew%20LeoHighlightsDimension%28iFrame.offsetWidth%2CiFrame.offsetHeight%29%0A%20%20%20%20%20%20if%20%28iFrameDim.width%20%3C%3D%200%29%0A%20%20%20%20%20%20%09iFrameDim.width%20%3D%20iFrame.style.width.substring%280%2C%20iFrame.style.width.indexOf%28%27px%27%29%29%3B%0A%20%20%20%20%20%20if%20%28iFrameDim.height%20%3C%3D%200%29%0A%20%20%20%20%20%20%09iFrameDim.height%20%3D%20iFrame.style.height.substring%280%2C%20iFrame.style.height.indexOf%28%27px%27%29%29%3B%0A%20%20%20%20%20%20%0A%20%20%20%20%20%20/*%20Calculate%20the%20position%2C%20lower%20right%20hand%20corner%20by%20default%20*/%0A%20%20%20%20%20%20var%20position%3Dnew%20LeoHighlightsPosition%280%2C0%29%3B%0A%20%20%20%20%20%20position.x%3DscrolledPos.x+centerDim.width-iFrameDim.width-LEO_HIGHLIGHTS_ADJUSTMENT.x%3B%0A%20%20%20%20%20%20position.y%3DscrolledPos.y+centerDim.height-iFrameDim.height-LEO_HIGHLIGHTS_ADJUSTMENT.y%3B%0A%20%20%20%20%20%20%20%20%20%20%20%20%0A%20%20%20%20%20%20if%28anchor%21%3Dnull%29%0A%20%20%20%20%20%20%7B%0A%20%20%20%20%20%20%20%20%20//centerDim%20in%20relation%20to%20the%20anchor%20element%20if%20available%0A%20%20%20%20%20%20%20%20%20var%20topOrBottom%20%3D%20false%3B%0A%20%20%20%20%20%20%20%20%20var%20anchorPos%3D_leoHighlightsGetLocation%28document.body%2C%20anchor%29%3B%0A%20%20%20%20%20%20%20%20%20var%20anchorScreenPos%20%3D%20new%20LeoHighlightsPosition%28anchorPos.x-scrolledPos.x%2CanchorPos.y-scrolledPos.y%29%3B%0A%20%20%20%20%20%20%20%20%20var%20anchorDim%3Dnew%20LeoHighlightsDimension%28anchor.offsetWidth%2Canchor.offsetHeight%29%0A%20%20%20%20%20%20%20%20%20if%20%28anchorDim.width%20%3C%3D%200%29%0A%20%20%20%20%20%20%20%20%20%09anchorDim.width%20%3D%20anchor.style.width.substring%280%2C%20anchor.style.width.indexOf%28%27px%27%29%29%3B%0A%20%20%20%20%20%20%20%20%20if%20%28anchorDim.height%20%3C%3D%200%29%0A%20%20%20%20%20%20%20%20%20%09anchorDim.height%20%3D%20anchor.style.height.substring%280%2C%20anchor.style.height.indexOf%28%27px%27%29%29%3B%0A%0A%20%20%20%20%20%20%20%20%20//%20Check%20if%20the%20popup%20can%20be%20shown%20above%20or%20below%20the%20element%0A%20%20%20%20%20%20%20%20%20if%20%28centerDim.height%20-%20anchorDim.height%20-%20iFrameDim.height%20-%20anchorScreenPos.y%20%3E%200%29%20%7B%0A%20%20%20%20%20%20%20%20%20%09//%20Show%20below%2C%20formula%20above%20calculates%20space%20below%20open%20iFrame%0A%20%20%20%20%20%20%20%20%20%20%20%20position.y%20%3D%20anchorPos.y%20+%20anchorDim.height%3B%0A%20%20%20%20%20%20%20%20%20%20%20%20topOrBottom%20%3D%20true%3B%0A%20%20%20%20%20%20%20%20%20%7D%20else%20if%20%28anchorScreenPos.y%20-%20anchorDim.height%20-%20iFrameDim.height%20%3E%200%29%20%7B%0A%20%20%20%20%20%20%20%20%20%09//%20Show%20above%2C%20formula%20above%20calculates%20space%20above%20open%20iFrame%0A%20%20%20%20%20%20%20%20%20%09position.y%20%3D%20anchorPos.y%20-%20iFrameDim.height%20-%20anchorDim.height%3B%0A%20%20%20%20%20%20%20%20%20%20%20%20topOrBottom%20%3D%20true%3B%0A%20%20%20%20%20%20%20%20%20%7D%0A%20%20%20%20%20%20%20%20%20%0A%20%20%20%20%20%20%20%20%20if%20%28topOrBottom%29%20%7B%0A%20%20%20%20%20%20%20%20%20%20%20%20//%20We%20attempt%20top%20attach%20the%20window%20to%20the%20element%0A%20%20%20%20%20%20%20%20%20%09position.x%20%3D%20anchorPos.x%20-%20iFrameDim.width%20/%202%3B%0A%20%20%20%20%20%20%20%20%20%20%20%20if%20%28position.x%20%3C%200%29%0A%20%20%20%20%20%20%20%20%20%20%20%20%09position.x%20%3D%200%3B%0A%20%20%20%20%20%20%20%20%20%20%20%20else%20if%20%28position.x%20+%20iFrameDim.width%20%3E%20scrolledPos.x%20+%20centerDim.width%29%0A%20%20%20%20%20%20%20%20%20%20%20%20%09position.x%20%3D%20scrolledPos.x%20+%20centerDim.width%20-%20iFrameDim.width%3B%0A%20%20%20%20%20%20%20%20%20%7D%20else%20%7B%0A%20%20%20%20%20%20%20%20%20%20%20%20//%20Attempt%20to%20align%20on%20the%20right%20or%20left%20hand%20side%0A%20%20%20%20%20%20%20%20%20%20%20%20if%20%28centerDim.width%20-%20anchorDim.Width%20-%20iFrameDim.width%20-%20anchorScreenPos.x%20%3E%200%29%0A%20%20%20%20%20%20%20%20%20%20%20%20%20%20%20position.x%20%3D%20anchorPos.x%20+%20anchorDim.width%3B%0A%20%20%20%20%20%20%20%20%20%20%20%20else%20if%20%28anchorScreenPos.x%20-%20anchorDim.width%20-%20iFrameDim.width%20%3E%200%29%0A%20%20%20%20%20%20%20%20%20%20%20%20%09position.x%20%3D%20anchorPos.x%20-%20anchorDim.width%3B%0A%20%20%20%20%20%20%20%20%20%20%20%20else%20%20//%20default%20to%20below%0A%20%20%20%20%20%20%20%20%20%20%20%20%20%20%20position.y%20%3D%20anchorPos.y%20+%20anchorDim.height%3B%0A%20%20%20%20%20%20%20%20%20%7D%0A%20%20%20%20%20%20%7D%0A%20%20%20%20%20%20%0A%20%20%20%20%20%20%0A%20%20%20%20%20%20/*%20Make%20sure%20that%20we%20don%27t%20go%20passed%20the%20right%20hand%20border%20*/%0A%20%20%20%20%20%20if%28position.x+iFrameDim.width%3EcenterDim.width-20%29%0A%20%20%20%20%20%20%09position.x%3DcenterDim.width-%28iFrameDim.width+20%29%3B%0A%20%20%20%20%20%20%09%09%0A%20%20%20%20%20%20//%20Make%20sure%20that%20we%20didn%27t%20go%20passed%20the%20start%0A%20%20%20%20%20%20if%28position.x%3C0%29%0A%20%20%20%20%20%20%20%20%20position.x%3D0%3B%0A%20%20%20%20%20%20if%28position.y%3C0%29%0A%20%20%20%20%20%20%09position.y%3D0%3B%0A%0A%20%20%20%20%20%20if%20%28LEO_HIGHLIGHTS_DEBUG_POS%26%26LEO_HIGHLIGHTS_DEBUG%29%20%7B%0A%20%20%20%20%20%20%20%20%20alert%28%22%20Popup%20info%20id%3A%20%20%20%20%20%20%20%22%20+iFrame.id+%22%20-%20%22+anchor.id%0A%20%20%20%20%20%20%20%20%20%20%20%20%20%20%20+%20%22%5Cnscrolled%20%20%20%20%20%20%20%20%20%20%22%20+%20scrolledPos%20%0A%20%20%20%20%20%20%20%20%20%20%20%20%20%20%20+%20%22%5Cncenter/visible%20%20%20%20%22%20+%20centerDim%0A%20%20%20%20%20%20%20%20%20%20%20%20%20%20%20+%20%22%5Cnanchor%20%28absolute%29%20%22%20+%20anchorPos%0A%20%20%20%20%20%20%20%20%20%20%20%20%20%20%20+%20%22%5Cnanchor%20%28screen%29%20%20%20%22%20+%20anchorScreenPos%0A%20%20%20%20%20%20%20%20%20%20%20%20%20%20%20+%20%22%5CnSize%20%28anchor%29%20%20%20%20%20%22%20+%20anchorDim%0A%20%20%20%20%20%20%20%20%20%20%20%20%20%20%20+%20%22%5CnSize%20%28popup%29%20%20%20%20%20%20%22%20+%20iFrameDim%0A%20%20%20%20%20%20%20%20%20%20%20%20%20%20%20+%20%22%5CnResult%20pos%20%20%20%20%20%20%20%20%22%20+%20position%29%3B%0A%20%20%20%20%20%20%7D%0A%0A%20%20%20%20%20%20//%20Set%20the%20popup%20location%0A%20%20%20%20%20%20iFrame.style.left%20%3D%20position.x%20+%20%22px%22%3B%0A%20%20%20%20%20%20iFrame.style.top%20%20%3D%20position.y%20+%20%22px%22%3B%0A%20%20%20%7D%0A%20%20%20catch%28e%29%0A%20%20%20%7B%0A%20%20%20%09_leoHighlightsReportExeception%28%22_leoHighlightsUpdatePopupPos%28%29%22%2Ce%29%3B%20%20%20%09%0A%20%20%20%7D%0A%7D%0A%0A%0A/**%0A%20*%20This%20will%20show%20the%20passed%20in%20element%20as%20a%20popup%0A%20*%20%0A%20*%20@param%20anchorId%0A%20*%20@param%20size%0A%20*%20%0A%20*%20@return%0A%20*/%0Afunction%20_leoHighlightsShowPopup%28anchorId%2Csize%29%0A%7B%0A%20%20%20try%0A%20%20%20%7B%0A%20%20%20%09var%20popup%3Dnew%20LeoHighlightsPopup%28anchorId%2Csize%29%3B%0A%20%20%20%09popup.show%28%29%3B%0A%20%20%20%7D%0A%20%20%20catch%28e%29%0A%20%20%20%7B%0A%20%20%20%09_leoHighlightsReportExeception%28%22_leoHighlightsShowPopup%28%29%22%2Ce%29%3B%20%20%20%09%0A%20%20%20%7D%09%0A%7D%0A%0A%0A/**%0A%20*%20This%20will%20transform%20the%20passed%20in%20url%20to%20a%20rover%20url%0A%20*%20%0A%20*%20@param%20url%0A%20*%20@return%0A%20*/%0Afunction%20_leoHighlightsGetRoverUrl%28url%29%0A%7B%0A%09var%20rover%3D%22711-36858-13496-14%22%3B%0A%09var%20roverUrl%3D%22http%3A//rover.ebay.com/rover/1/%22+rover+%22/4?%26mpre%3D%22+encodeURI%28url%29%3B%0A%09%0A%09return%20roverUrl%3B%0A%7D%0A%0A/**%0A%20*%20Class%20for%20a%20Popup%20%0A%20*%20%0A%20*%20@param%20anchorId%0A%20*%20@param%20size%0A%20*%20%0A%20*%20@return%0A%20*/%0Afunction%20LeoHighlightsPopup%28anchorId%2Csize%29%0A%7B%0A%20%20%20try%0A%20%20%20%7B%0A%20%20%20%09this.anchorId%3DanchorId%3B%0A%20%20%20%09this.anchor%3D_leoHighlightsFindElementById%28this.anchorId%29%3B%0A%20%20%20%09this.iFrame%3D_leoHighlightsFindElementById%28LEO_HIGHLIGHTS_IFRAME_ID%29%3B%0A%20%20%20%09this.iFrameDiv%3D_leoHighlightsFindElementById%28LEO_HIGHLIGHTS_IFRAME_DIV_ID%29%3B%0A%20%20%20%09%0A%20%20%20%09var%20url%3Dunescape%28this.anchor.getAttribute%28%27leoHighlights_url%27%29%29%3B%0A%0A%20%20%20%09this.iFrame.src%3Durl%3B%0A%0A%20%20%20%09leoHighlightsSetSize%28size%29%3B%0A%20%20%20%09%0A%20%20%20%09this.updatePos%3Dfunction%28%29%20%7B%20_leoHighlightsUpdatePopupPos%28this.iFrameDiv%2Cthis.anchor%29%7D%3B%0A%20%20%20%09this.show%3Dfunction%28%29%20%7Bthis.updatePos%28%29%3B%20this.iFrameDiv.style.visibility%20%3D%20%22visible%22%3B%20this.iFrameDiv.style.display%20%3D%20%22block%22%3B%20this.updatePos%28%29%3B%7D%20%20%20%09%09%0A%20%20%20%09this.scroll%3Dfunction%28%29%20%7B%20this.updatePos%28%29%3B%7D%3B%0A%20%20%20%7D%0A%20%20%20catch%28e%29%0A%20%20%20%7B%0A%20%20%20%09_leoHighlightsReportExeception%28%22new%20LeoHighlightsPopup%28%29%22%2Ce%29%3B%20%20%20%09%0A%20%20%20%7D%0A%7D%0A%0A/**%0A*%0A*%20This%20can%20be%20used%20to%20close%20an%20iframe%0A*%0A*%20@param%20id%0A*%20@return%0A*/%0Afunction%20leoHighlightsSetSize%28size%2CclickId%29%0A%7B%0A%09try%0A%09%7B%0A%09%09/*%20Get%20the%20appropriate%20sizes%20*/%0A%20%20%09%09var%20iFrame%3D_leoHighlightsFindElementById%28LEO_HIGHLIGHTS_IFRAME_ID%29%3B%0A%20%20%09%09var%20iFrameDiv%3D_leoHighlightsFindElementById%28LEO_HIGHLIGHTS_IFRAME_DIV_ID%29%3B%0A%20%20%09%09%0A%20%20%09%09/*%20Figure%20out%20the%20correct%20sizes%20*/%0A%20%20%09%09var%20iFrameSize%3D%28size%3D%3D1%29?LEO_HIGHLIGHTS_IFRAME_CLICK_SIZE%3ALEO_HIGHLIGHTS_IFRAME_HOVER_SIZE%3B%0A%20%20%09%09var%20divSize%3D%28size%3D%3D1%29?LEO_HIGHLIGHTS_DIV_CLICK_SIZE%3ALEO_HIGHLIGHTS_DIV_HOVER_SIZE%3B%0A%0A%20%20%09%09/*%20Refresh%20the%20iFrame%27s%20url%2C%20by%20removing%20the%20size%20arg%20and%20adding%20it%20again%20*/%0A%20%20%09%09var%20url%3DiFrame.src%3B%0A%20%20%09%09var%20idx%3Durl.indexOf%28%22%26size%3D%22%29%3B%0A%20%20%09%09if%28idx%3E%3D0%29%0A%20%20%09%09%09url%3Durl.substring%280%2Cidx%29%3B%0A%09%09url+%3D%28%22%26size%3D%22+size%29%3B%0A%09%09if%28clickId%29%0A%09%09%09url+%3D%28%22%26clickId%3D%22+clickId%29%3B%0A%09%09%0A%20%20%09%09iFrame.src%3Durl%3B%0A%20%20%09%09%0A%20%20%09%09/*%20Clear%20the%20hover%20flag%2C%20if%20the%20user%20shows%20this%20at%20full%20size%20*/%0A%20%20%09%09if%28size%3D%3D1%26%26_leoHighlightsPrevElem%29%0A%20%20%09%09%09_leoHighlightsPrevElem.hover%3Dfalse%3B%0A%20%20%09%09%0A%20%20%09%09_leoHighlightsSetSize%28iFrame%2CiFrameSize%29%3B%0A%20%20%09%09_leoHighlightsSetSize%28iFrameDiv%2CdivSize%29%3B%0A%09%7D%0A%09catch%28e%29%0A%09%7B%0A%09%09_leoHighlightsReportExeception%28%22leoHighlightsSetSize%28%29%22%2Ce%29%3B%20%20%20%09%0A%09%7D%0A%7D%0A%0A/**%0A%20*%20Start%20the%20popup%20a%20little%20bit%20delayed.%0A%20*%20Somehow%20IE%20needs%20some%20time%20to%20find%20the%20element%20by%20id.%0A%20*%20%0A%20*%20@param%20anchorId%0A%20*%20@param%20size%0A%20*%20%0A%20*%20@return%0A%20*/%0Afunction%20leoHighlightsShowPopup%28anchorId%2Csize%29%0A%7B%0A%20%20%20try%0A%20%20%20%7B%0A%20%20%09%09var%20elem%3D_leoHighlightsFindElementById%28anchorId%29%3B%0A%20%20%09%09if%28_leoHighlightsPrevElem%26%26%28_leoHighlightsPrevElem%21%3Delem%29%29%0A%20%20%09%09%09_leoHighlightsPrevElem.shown%3Dfalse%3B%0A%20%20%09%09elem.shown%3Dtrue%3B%0A%09%09_leoHighlightsPrevElem%3Delem%3B%0A%20%20%20%09%0A%20%20%20%09/*%20FF%20needs%20to%20find%20the%20element%20first%20*/%0A%20%20%20%09_leoHighlightsFindElementById%28anchorId%29%3B%0A%20%20%20%09%0A%20%20%20%09setTimeout%28%22_leoHighlightsShowPopup%28%5C%27%22+anchorId+%22%5C%27%2C%5C%27%22+size+%22%5C%27%29%3B%22%2C10%29%3B%0A%20%20%20%7D%0A%20%20%20catch%28e%29%0A%20%20%20%7B%0A%20%20%20%09_leoHighlightsReportExeception%28%22leoHighlightsShowPopup%28%29%22%2Ce%29%3B%20%20%20%09%0A%20%20%20%7D%09%0A%7D%0A%0A/**%0A*%0A*%20This%20can%20be%20used%20to%20close%20an%20iframe%0A*%0A*%20@param%20id%0A*%20@return%0A*/%0Afunction%20leoHighlightsHideElem%28id%29%0A%7B%0A%09try%0A%09%7B%0A%09%09/*%20Get%20the%20appropriate%20sizes%20*/%0A%20%20%09%09var%20elem%3D_leoHighlightsFindElementById%28id%29%3B%0A%20%20%09%09if%28elem%29%0A%20%20%09%09%09elem.style.visibility%3D%22hidden%22%3B%0A%20%20%09%09%0A%20%20%09%09/*%20Clear%20the%20page%20for%20the%20next%20run%20through%20*/%0A%20%20%09%09var%20iFrame%3D_leoHighlightsFindElementById%28LEO_HIGHLIGHTS_IFRAME_ID%29%3B%0A%20%20%09%09if%28iFrame%29%0A%20%20%09%09%09iFrame.src%3D%22about%3Ablank%22%3B%0A%20%20%09%09%0A%20%20%09%09%0A%20%20%09%09if%28_leoHighlightsPrevElem%29%0A%20%20%09%09%7B%0A%20%20%09%09%09_leoHighlightsPrevElem.shown%3Dfalse%3B%0A%20%20%09%09%09_leoHighlightsPrevElem%3Dnull%3B%0A%20%20%09%09%7D%0A%09%7D%0A%09catch%28e%29%0A%09%7B%0A%09%09_leoHighlightsReportExeception%28%22leoHighlightsHideElem%28%29%22%2Ce%29%3B%20%20%20%09%0A%09%7D%0A%7D%0A%0A/**%0A*%0A*%20This%20can%20be%20used%20to%20close%20an%20iframe.%0A*%20Since%20the%20iFrame%20is%20reused%20the%20frame%20only%20gets%20hidden%0A*%0A*%20@return%0A*/%0Afunction%20leoHighlightsIFrameClose%28%29%0A%7B%0A%20%20try%0A%20%20%7B%0A%09%20%20_leoHighlightsSimpleGwCallBack%28%22LeoHighlightsHideIFrame%22%29%3B%0A%20%20%7D%0A%20%20catch%28e%29%0A%20%20%7B%0A%09%20%20_leoHighlightsReportExeception%28%22leoHighlightsIFrameClose%28%29%22%2Ce%29%3B%20%20%20%09%0A%20%20%7D%0A%7D%0A%0A/**%0A%20*%20This%20should%20handle%20the%20click%20events%0A%20*%20%0A%20*%20@param%20anchorId%0A%20*%20@return%0A%20*/%0Afunction%20leoHighlightsHandleClick%28anchorId%29%0A%7B%0A%20%20%20try%0A%20%20%20%7B%0A%20%20%09%09var%20anchor%3D_leoHighlightsFindElementById%28anchorId%29%3B%0A%20%20%09%09anchor.hover%3Dfalse%3B%0A%20%20%09%09if%28anchor.startTimer%29%0A%20%20%09%09%09clearTimeout%28anchor.startTimer%29%3B%0A%20%20%20%09%0A%20%20%09%09leoHighlightsEvent%28%22clicked%22%29%3B%0A%20%20%20%09leoHighlightsShowPopup%28anchorId%2C1%29%3B%0A%20%20%20%09return%20false%3B%0A%20%20%20%7D%0A%20%20%20catch%28e%29%0A%20%20%20%7B%0A%20%20%20%09_leoHighlightsReportExeception%28%22leoHighlightsHandleClick%28%29%22%2Ce%29%3B%20%20%20%09%0A%20%20%20%7D%09%0A%7D%0A%0A/**%0A%20*%20This%20should%20handle%20the%20hover%20events%0A%20*%20%0A%20*%20@param%20anchorId%0A%20*%20@return%0A%20*/%0Afunction%20leoHighlightsHandleHover%28anchorId%29%0A%7B%0A%20%20%20try%0A%20%20%20%7B%0A%20%20%09%09var%20anchor%3D_leoHighlightsFindElementById%28anchorId%29%3B%0A%20%20%09%09anchor.hover%3Dtrue%3B%0A%20%20%09%09%0A%20%20%09%09leoHighlightsEvent%28%22hovered%22%29%3B%0A%20%20%20%09leoHighlightsShowPopup%28anchorId%2C0%29%3B%0A%20%20%20%09return%20false%3B%0A%20%20%20%7D%0A%20%20%20catch%28e%29%0A%20%20%20%7B%0A%20%20%20%09_leoHighlightsReportExeception%28%22leoHighlightsHandleHover%28%29%22%2Ce%29%3B%20%20%20%09%0A%20%20%20%7D%09%0A%7D%0A%0A/**%0A%20*%20This%20will%20handle%20the%20mouse%20over%20setup%20timers%20for%20the%20appropriate%20timers%0A%20*%20%0A%20*%20@param%20id%0A%20*%20@return%0A%20*/%0Afunction%20leoHighlightsHandleMouseOver%28id%29%0A%7B%0A%09try%0A%09%7B%0A%09%09var%20anchor%3D_leoHighlightsFindElementById%28id%29%3B%09%09%0A%0A%09%09/*%20Clear%20the%20end%20timer%20if%20required%20*/%0A%09%09if%28anchor.endTimer%29%0A%09%09%09clearTimeout%28anchor.endTimer%29%3B%0A%09%09anchor.endTimer%3Dnull%3B%0A%09%09%0A%09%09anchor.style.background%3DLEO_HIGHLIGHTS_BACKGROUND_STYLE_HOVER%3B%0A%09%09%0A%09%09/*%20The%20element%20is%20already%20showing%20we%20are%20done%20*/%0A%09%09if%28anchor.shown%29%0A%09%09%09return%3B%0A%09%09%0A%09%09/*%20Setup%20the%20start%20timer%20if%20required%20*/%0A%09%09anchor.startTimer%3DsetTimeout%28function%28%29%7B%0A%09%09%09leoHighlightsHandleHover%28anchor.id%29%3B%0A%09%09%09anchor.hover%3Dtrue%3B%0A%09%09%09%7D%2C%0A%09%09%09LEO_HIGHLIGHTS_SHOW_DELAY_MS%29%3B%0A%09%7D%0A%09catch%28e%29%0A%09%7B%0A%09%09_leoHighlightsReportExeception%28%22leoHighlightsHandleMouseOver%28%29%22%2Ce%29%3B%20%20%20%09%0A%09%7D%0A%7D%0A%0A/**%0A%20*%20This%20will%20handle%20the%20mouse%20over%20setup%20timers%20for%20the%20appropriate%20timers%0A%20*%20%0A%20*%20@param%20id%0A%20*%20@return%0A%20*/%0Afunction%20leoHighlightsHandleMouseOut%28id%29%0A%7B%0A%09try%0A%09%7B%09%0A%09%09var%20anchor%3D_leoHighlightsFindElementById%28id%29%3B%0A%09%09%0A%09%09/*%20Clear%20the%20start%20timer%20if%20required%20*/%0A%09%09if%28anchor.startTimer%29%0A%09%09%09clearTimeout%28anchor.startTimer%29%3B%0A%09%09anchor.startTimer%3Dnull%3B%0A%09%09%0A%09%09anchor.style.background%3DLEO_HIGHLIGHTS_BACKGROUND_STYLE_DEFAULT%3B%0A%09%09if%28%21anchor.shown||%21anchor.hover%29%0A%09%09%09return%3B%0A%09%09%0A%09%09/*%20Setup%20the%20start%20timer%20if%20required%20*/%0A%09%09anchor.endTimer%3DsetTimeout%28function%28%29%7B%0A%09%09%09leoHighlightsHideElem%28LEO_HIGHLIGHTS_IFRAME_DIV_ID%29%3B%0A%09%09%09anchor.shown%3Dfalse%3B%0A%09%09%09_leoHighlightsPrevElem%3Dnull%3B%0A%09%09%09%7D%2CLEO_HIGHLIGHTS_HIDE_DELAY_MS%29%3B%0A%09%7D%0A%09catch%28e%29%0A%09%7B%0A%09%09_leoHighlightsReportExeception%28%22leoHighlightsHandleMouseOut%28%29%22%2Ce%29%3B%20%20%20%09%0A%09%7D%0A%7D%0A%0A/**%0A%20*%20This%20handles%20the%20mouse%20movement%20into%20the%20currently%20opened%20window.%0A%20*%20Just%20clear%20the%20close%20timer%0A%20*%20%0A%20*%20@return%0A%20*/%0Afunction%20leoHighlightsHandleIFrameMouseOver%28%29%0A%7B%0A%09try%0A%09%7B%0A%09%09if%28_leoHighlightsPrevElem%26%26_leoHighlightsPrevElem.endTimer%29%0A%09%09%09clearTimeout%28_leoHighlightsPrevElem.endTimer%29%3B%0A%09%7D%0A%09catch%28e%29%0A%09%7B%0A%09%09_leoHighlightsReportExeception%28%22leoHighlightsHandleIFrameMouseOver%28%29%22%2Ce%29%3B%20%20%20%09%0A%09%7D%0A%7D%0A%0A/**%0A%20*%20This%20handles%20the%20mouse%20movement%20into%20the%20currently%20opened%20window.%0A%20*%20Just%20clear%20the%20close%20timer%0A%20*%20%0A%20*%20@param%20id%0A%20*%20@return%0A%20*/%0Afunction%20leoHighlightsHandleIFrameMouseOut%28%29%0A%7B%0A%09try%0A%09%7B%0A%09%09if%28_leoHighlightsPrevElem%29%0A%09%09%09leoHighlightsHandleMouseOut%28_leoHighlightsPrevElem.id%29%3B%0A%09%7D%0A%09catch%28e%29%0A%09%7B%0A%09%09_leoHighlightsReportExeception%28%22leoHighlightsHandleIFrameMouseOut%28%29%22%2Ce%29%3B%20%20%20%09%0A%09%7D%0A%7D%0A/**%0A%20*%20This%20is%20a%20method%20is%20used%20to%20make%20the%20javascript%20within%20IE%20runnable%0A%20*/%0Avar%20leoHighlightsRanUpdateDivs%3Dfalse%3B%0Afunction%20leoHighlightsUpdateDivs%28%29%0A%7B%0A%09try%0A%09%7B%0A%09%09/*%20Check%20if%20this%20is%20an%20IE%20browser%20and%20if%20divs%20have%20been%20updated%20already%20*/%0A%09%09if%28document.all%26%26%21leoHighlightsRanUpdateDivs%29%0A%09%09%7B%0A%09%09%09leoHighlightsRanUpdateDivs%3Dtrue%3B%20//%20Set%20early%20to%20prevent%20running%20twice%0A%09%09%09for%28var%20i%3D0%3Bi%3CLEO_HIGHLIGHTS_MAX_HIGHLIGHTS%3Bi++%29%0A%09%09%09%7B%0A%09%09%09%09var%20id%3D%22leoHighlights_Underline_%22+i%3B%0A%09%09%09%09var%20elem%3D_leoHighlightsFindElementById%28id%29%3B%0A%09%09%09%09if%28elem%3D%3Dnull%29%0A%09%09%09%09%09break%3B%0A%09%09%09%09%0A%09%09%09%09if%28%21elem.leoChanged%29%0A%09%09%09%09%7B%0A%09%09%09%09%09elem.leoChanged%3Dtrue%3B%0A%09%09%09%09%0A%09%09%09%09%09/*%20This%20will%20make%20javaScript%20runnable%20*/%09%09%09%09%0A%09%09%09%09%09elem.outerHTML%3Delem.outerHTML%3B%0A%09%09%09%09%7D%0A%09%09%09%7D%0A%09%09%7D%0A%09%7D%0A%09catch%28e%29%0A%09%7B%0A%09%09_leoHighlightsReportExeception%28%22leoHighlightsUpdateDivs%28%29%22%2Ce%29%3B%20%20%20%09%0A%09%7D%0A%7D%0A%0Aif%28document.all%29%0A%09setTimeout%28leoHighlightsUpdateDivs%2C200%29%3B%0A%0A/**%0A%20*%20This%20is%20used%20to%20report%20events%20to%20the%20plugin%0A%20*%20@param%20key%0A%20*%20@param%20sub%0A%20*%20@return%0A%20*/%0Afunction%20leoHighlightsEvent%28key%2C%20sub%29%0A%7B%0A%20%20%20try%0A%20%20%20%7B%0A%20%20%20%20%20%20var%20gwObj%20%3D%20new%20Gateway%28%29%3B%0A%20%20%20%20%20%20gwObj.addParam%28%22key%22%2C%20key%29%3B%0A%20%20%20%20%20%20gwObj.addParam%28%22sub%22%2C%20sub%29%3B%0A%20%20%20%20%20%20gwObj.callName%28%22LeoHighlightsEvent%22%29%3B%09%0A%20%20%20%7D%0A%20%20%20catch%28e%29%0A%20%20%20%7B%0A%20%20%20%09_leoHighlightsReportExeception%28%22leoHighlights%28%29%22%2Ce%29%3B%20%20%20%09%0A%20%20%20%7D%0A%7D%0A%0A/*----------------------------------------------------------------------*/%0A/*%20Methods%20provided%20to%20the%20highlight%20providers...%20%20%20%20%20%20%20%20%20%20%20%20%20%20%20%20%20%20%20%20%20%20%20*/%0A/*----------------------------------------------------------------------*/%0A%0A/**%0A%20*%20This%20will%20redirect%20the%20top%20window%20to%20the%20passed%20in%20url%0A%20*%20%0A%20*%20@param%20url%0A%20*%20@param%20parentId%0A%20*%20@return%0A%20*/%0Afunction%20leoHL_RedirectTop%28url%2CparentId%29%0A%7B%0A%20%20%20try%0A%20%20%20%7B%0A%20%20%09%09leoHighlightsEvent%28%22clicked.2eBay%22%29%3B%0A%20%20%20%09_leoHighlightsRedirectTop%28url%29%3B%0A%20%20%20%7D%0A%20%20%20catch%28e%29%0A%20%20%20%7B%0A%20%20%20%09_leoHighlightsReportExeception%28%22leoHL_RedirectTop%28%29%22%2Ce%29%3B%20%20%20%09%0A%20%20%20%7D%0A%7D%0A%0A/**%0A%20*%20This%20will%20set%20the%20size%20of%20the%20iframe%0A%20*%20%0A%20*%20@param%20url%0A%20*%20@param%20parentId%0A%20*%20%0A%20*%20@return%0A%20*/%0Afunction%20leoHl_setSize%28size%2Curl%29%0A%7B%0A%20%20%20try%0A%20%20%20%7B%0A%20%20%20%09/*%20Get%20the%20clickId%20*/%0A%20%20%20%09var%20clickId%3D_leoHighlightsGetUrlArg%28%20url%2C%22clickId%22%29%0A%20%20%20%09%0A%20%20%20%20%20%20var%20gwObj%20%3D%20new%20Gateway%28%29%3B%0A%20%20%20%20%20%20gwObj.addParam%28%22size%22%2Csize%29%3B%0A%20%20%20%20%20%20if%28clickId%29%0A%20%20%20%20%20%20%20%20%20gwObj.addParam%28%22clickId%22%2CclickId+%22_blah%22%29%3B%0A%20%20%20%20%20%20gwObj.callName%28%22LeoHighlightsSetSize%22%29%3B%0A%20%20%20%7D%0A%20%20%20catch%28e%29%0A%20%20%20%7B%0A%20%20%20%09_leoHighlightsReportExeception%28%22leoHl_setSize%28%29%22%2Ce%29%3B%20%20%20%09%0A%20%20%20%7D%0A%7D%0A");

Community content is available under
CC-BY-SA
unless otherwise noted.