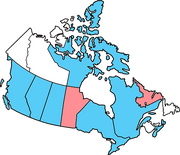 See also: the
Provinces category
.
Canada - A rich tapestry: Who to hate and why
Edit
'If you truly wish to mingle with Canadians, you will need to go out into your community and make contact with your neighbors in order to insult them. After all, feeling offended is a popular Canadian pastime. (Sample sentecce: "As a __________, I find that offensive.") We'll start with the basics: regional identity. Every region in Canada hates/resents/looks down upon every other region - often at the same time..." -How To Be a Canadian (even if you are already one)


A
B
L
M
N
O
P

Q
S
Y
Past Provinces and Territories
Edit
N
Y
Community content is available under
CC-BY-SA
unless otherwise noted.