[In Progress]
State of New Mexico

Estado de Nuevo Mèxico

[[1]]
Early ref sheet of New Mexico

Human Name:

Catori Otekah Hernàndez

Nicknames:

Land of Enchantment

Age (Appearance):

14

Date of Statehood/Birthday:

January 6, 1912

Gender:

Female

Hair:

Brownish Black

Eyes:

Hazel
Pre-Statehood
Edit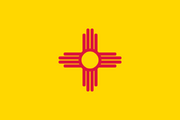 Bat dude.
Post-Statehood
Edit
Personality & Interests
Edit
Appearance & Such
Edit
Heritage: Mostly Pueblonean and Navajo.
Hair: Shade of black that has a coppery tinge in the light. She usually has it in two braids down her front, tied with red hair ties. She also likes wearing it in a Navajo style bun, and ocasionally wears it down.

Eyes: Hazel.

Skin: Dark, clayish colored tan

Clothes: Nowadays she favors a yellow T-shirt, with a light-weight longsleeved shirt either over it or tied around her waist. This is generally accompanied by blue jeans with a colorful patterned belt that really serves no perpose besides a memento, and worn cowboy boots with the design of a yucca leaf (her state flower) on each. Her jewlery includes a flat silver necklace in the shape of an alien head (with turquoise eyes) on a leather cord and a pair of silver disk-shaped earings with small turquoise stones in the middle and etchings around it in the shape of the sun on the New Mexico flag.
Relationships
Either state facts or random tid-bits that happen in the character-creation process; any interesting fact goes here.
Community content is available under
CC-BY-SA
unless otherwise noted.