The Great State of Kansas

The great plains princess herself.

Name:

Addison Collette Carriedo-Jones

Age:

Appears 18

Nicknames:

Addie, Sunflower State, Kansass to her less adoring siblings.

Birthday:

January 29

Height:

5'3"
Pre-Colonial
Edit
In 1541, Spain, along with Francisco Vasquez de Coronado and his men, explored Kansas' Territory. Although they turned back near Coronado Heights, their cursory expedition introduced horses to the Plains Indians and caused a radical alteration of their lifestyles and geographical limits. The Kansa (or Kaw) and Osage Nation, who arrived around 1673, controlled the eastern parts of the state including The Kansas river and the Arkansas river to the South. The Pawnees were another prominent tribe on the plains, although they resided to the north and west of the Kansa and the Osage and mainly relied on land profuse with herds of bison.

Europeans finally returned to Kansas in 1719. Their main intent was to make a connection with the Northern Pawnees, and it wouldn't be until 1724 that Kansas would come to know another of the archaic nations. This time it was France, who, with commander Etienne de Bourgmont at his heels, visited the Kansas River and constructed a trading post near the Kansa village at the mouth of the Kansas River.

tbc..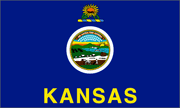 Community content is available under
CC-BY-SA
unless otherwise noted.